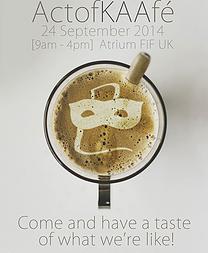 The new semester hasn't even begun yet and you've already had enough?
Luckily, we have come up with a nice way to make its beginning more enjoyable! Delicious coffee, nice music, maybe even some sketches. The members of ActofKAA will make sure that you start the semester with a smile on your face.
If you want to become one of the actors, try directing one of our plays, designing the costumes, or help with organising our events but you don't know whom to address, don't hesitate to ask any of us. We will be more than glad to help you.
See you in the Atrium on 24 September. You might even get a bite of some delicious cakes. 🙂