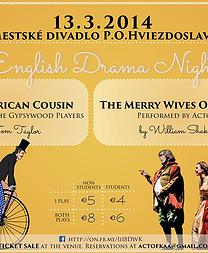 For all theatre lovers and English language enthusiasts, ActofKAA has embarked on a new project in an attempt to spread the student theatre art over the brick walls of universities and further across the state borders. You will have a chance to witness the result – ENGLISH DRAMA NIGHT – on March 13 in DPOH Theatre in Bratislava.
Apart from ActofKAA's production of The Merry Wives of Windsor, you will be able to enjoy Our American Cousin, a play by Tom Taylor presented by our international guest – The Gypsywood Players from Brno.
We hope that this delightful event will be a beginning of a long friendship and cooperation between both the theatre troupes.